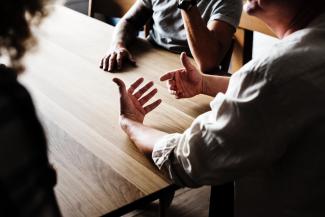 Offering Group Disability Insurance
Group disability insurance is a single disability policy that covers many people (a group) who have a common interest or association, such as an employer, a trade, or a school affiliation. When your business offers a group disability plan to its employees, it must choose a specific range of coverage, a funding method for the plan, and the eligibility criteria for participants. The cost of group coverage is often less expensive than the cost of individual coverage, making it an attractive benefit for employees.
Group plans cover non-work-related injuries or illnesses
Unlike individual disability policies, most group policies sponsored by an employer only pay benefits if the injury or illness is not work-related (nonoccupational). Work-related injuries and illnesses are usually covered by workers' compensation insurance.
Three types of disability benefits
Three types of disability benefits are commonly offered to employees: sick leave, short-term disability, and long-term disability. Each plan covers a different period of disability, and you can usually buy disability insurance to fund the plans.
Sick leave
Company sick-leave plans cover the shortest period of disability, but they're not insurance. Under a sick-leave plan, the business usually:
Reimburses employees either wholly or partially for lost wages as a result of a sickness or accident that lasts for a short period of time (usually six months or less)
Provides full pay benefits for a specific number of days each year that do not have to be consecutive
Allows employees to either accrue sick days on a monthly basis or receive an allocation of a certain number of sick days each year
Funds the plan with company money--insurance is rarely involved
Has the option of allowing employees to carry unused sick days from one year to the following plan year
Short-term disability plans
Short-term disability insurance coverage bridges the gap between sick leave and long-term disability coverage. Most employers offer short-term disability insurance plans. If you choose to provide short-term disability insurance, you must also provide female employees with benefits during pregnancy and childbirth. Short-term disability plans generally:
Reimburse employees either wholly or partially for lost wages as a result of a sickness or accident that lasts for a short period of time (usually six months or less)
Define disability as the employee's inability to perform his or her regular duties
Contain short elimination periods (3 to 14 days) before benefit payments begin
Long-term disability plans
Disability insurance is the best way to provide long-term disability benefits. Long-term disability policies are offered more frequently by medium-size to large companies than by smaller businesses. Long-term disability plans do not have to follow nondiscrimination rules. As a result, your business can reduce the plan's overall costs by offering the plan to only a select group of employees.
Long-term disability insurance usually:
Provides benefits to employees who are disabled as a result of sickness or accident after they have been unable to work for a lengthy time period (usually three to six months)
Defines disability as the employee's inability to perform his or her regular duties and those of any other occupation
Pays benefits that are 50 to 70 percent of the employee's predisability pay
Pays benefits until the disabled employee reaches age 65, although some policies may pay lifetime benefits
Definition of disability varies from policy to policy
The definition of disability will vary from policy to policy. An employer-sponsored group disability policy is likely to include an "any occupation" definition of disability. This means that if an employee is able to work in any occupation (even one outside of his or her own area of expertise), he or she won't be eligible for disability benefits. Some policies cover full or partial disabilities, while others cover only full disabilities. Certain policies may not cover pre-existing conditions until a certain period of time has elapsed while the employee has been insured under the policy.
Group disability policies typically do not cover:
Self-inflicted injuries
Acts of war
Criminal acts
Occupational injuries
Sometimes, an employee will return to work after a period of disability and become sick or injured again shortly afterward. Insurance companies differ in their interpretation of the beginning of a new period of disability. Some policies say that if the employee returns to work for even one day, a new elimination (waiting) period must be satisfied. Other policies allow up to six months of continuous active employment before a new benefit period begins, and no new elimination period must be satisfied.
Group policies often have fewer underwriting restrictions
Group disability policies often have fewer underwriting restrictions than individual disability policies, because the risk of disability is borne by the group rather than by an individual. A fairly large group will include mostly individuals who are good risks, as well as a few individuals who are poor risks. Even though individuals enrolling in a group disability plan will not have to submit to medical underwriting, they will have only a limited enrollment period to take advantage of this provision. This helps to prevent individuals with health problems from enrolling after they have discovered that they are sick.
Two ways to pay for the plan
There are two ways for the business to fund a group disability insurance plan. Any premiums paid by the company under either funding arrangement are considered deductible business expenses for the company's income tax purposes. The funding method used determines the minimum participation rate the insurance company requires to provide the group policy.
Under a contributory plan, your employees must sign up for coverage and contribute part or all of the premium payments, usually through payroll deduction. If the plan is contributory, then usually 75 percent or more of eligible members must be covered by the plan.
If the business pays the entire premium cost, then the plan is said to be noncontributory. If the plan is noncontributory, 100 percent of eligible group members must be covered by the plan, and employees are automatically covered if they meet eligibility requirements, although they must still fill out an enrollment card.
Business is the master policyholder
When your business arranges for group disability coverage, the policy is issued to the business as the master policyholder. The individuals within the group who apply for disability insurance are issued certificates of coverage rather than individual policies. These certificates are proof that coverage exists, and they contain information about the amount and type of coverage provided.
For a contributory group insurance plan to remain in effect, most or all of the group's members must be included and have coverage. When enrollment levels drop, the group must find new participants from the eligible pool of members.
Business may set eligibility requirements
The business may set eligibility criteria for participation in the group plan. Although a group plan cannot bar an individual from coverage, it can bar a group of individuals from coverage until certain eligibility criteria, such as length of employment, are met.
**This is a Forefield 3rd party article which is being submitted by Wealth Strategies Financial Group.
Copyright 2018 Broadridge Advisor Solutions