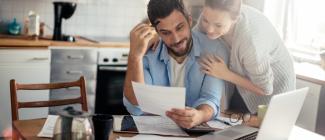 What are some tips for managing my money?
As with virtually all financial matters, the easiest way to be successful with a cash management program is to develop a systematic and disciplined approach. Spending a few minutes each week to maintain your cash management program, can help you to keep track of how you spend your money and pursue your financial goals.
Any good cash management system revolves around the four As - Accounting, Analysis, Allocation, and Adjustment.
Accounting quite simply involves gathering all your relevant financial information together and keeping it close at hand for future reference. Gathering all your financial information — such as income and expenses — and listing it systematically will give you a clear picture of your overall financial situation.
Analysis boils down to reviewing your financial situation once you have accounted for all your income and expenses. You will almost invariably find yourself with either a shortfall or a surplus. Ideally, you should be spending less than you earn.
Allocation involves determining your financial commitments and priorities and distributing your income accordingly. One of the most important factors in allocation is to distinguish between your real needs and your wants. If you need to reduce your expenses, you may want to start out by cutting back on your discretionary spending. This can help to free up cash that can either be invested for the long term or used to pay off fixed debt.
Adjustment involves reviewing your income and expenses periodically and making the changes when necessary. Above all, be flexible. Any budget that is too rigid is likely to fail.
Using the four As is an excellent way to help you monitor your financial situation to ensure that you are on the right track to meet your financial goals.
**This is a Forefield 3rd party article which is being submitted by Wealth Strategies Financial Group.
Copyright 2018 Broadridge Advisor Solutions